After being involved in an auto accident, you will have a million and one things running through your head. Even those who are normally calm might experience some panic and not think thoroughly. The trick is to be prepared before heading on the road. We're here to go over what to do after a car accident. Save this car accident checklist on your phone, so you can refer to it following an auto accident. You can also download the
PDF version here.
After Car Accident Checklist
1. Stop the car & get to safety.
This could mean pulling your car to the side of the road and staying inside of it. This keeps both you and the other party safe, as well as ensuring the road is clear. If there is extensive damage, you may want to walk away from the road and to the nearest safe space out of the way of traffic.
2. Remain at the scene.
But make sure to not leave the scene or the other party. If you have been in a car accident and you leave the scene, you will likely be charged with a criminal offence, turning a bad day into a bad year.
3. After a car accident, check yourself and your passengers for injuries.
Check yourself and your passengers for injuries. This is first and foremost for safety, but it also identifies the severity of the accident and to start documenting. Do not try to move others if they are injured because it could make their injuries worse.
4. Reporting a car accident to Police.
In Ontario, you have to call 911 if anyone is injured, if the damage to all vehicles appears to be more than $2000, or if you believe anyone involved in the accident has committed an offence such as DUI. The police officer will put together a car accident report at the scene. If you are unsure of whether to call the police or now, it is always better to report a car accident to the police to be on the safe side.
5. Or go to a Collision Reporting Centre.
If nobody is injured, if the damage appears to be minimal (under $2000) and the vehicle(s) are safe to drive, you must go to a collision reporting centre to fill out a car accident report. You can find a Collision Reporting Centre location here.
6. Collect other driver's info.
It is important to remain calm. If you've just been involved in accident with a third party, then chances are everyone is nervous, maybe even angry. It is best for everyone to remain calm and exchange info in a civil manner in order to get things taken care of quickly and safely. Obtain the other driver's name, driver's license, contact info and insurance info.
7. Document, document, document!
Record information such as photos of the accident scene, photos of damage, photos of any injuries. Collect names and contact info of potential witnesses. Your cell phone camera is the perfect tool to capture all this info including a snapshot of the other drivers' insurance info and the car accident report from the police as well as their name and badge number.
You may also want to jot down the intersection of where the accident occured. Record everything when the memory is still fresh, such as which direction you're going in and the conditions. It's best to record this information now, as opposed to having to remember it when the police arrives or at the collision reporting centre later.
8. Avoid tow truck scams.
Some unscrupulous tow trucks might refer you to a certain repair center or storage area. These could be signs of a scam. Make sure your car is towed by a reputable tow provider such as CAA or other recognizable roadside assistance companies.
9. Call your insurer or insurance brokerage.
Once you've completed all of these steps, you should call your insurance broker or insurance company at your earliest convenience and share with them your story and all of the information you've obtained. You're now in the hands of a professional, and they will promptly help you deal with any vehicle damage or injuries.
Reporting a car accident but not claiming is possible. If the damage to all vehicles is under $2000, there are no injuries and the at-fault driver agrees to fix the damages, then a claim does not have to be made and your insurance record will stay in place without a rate increase due to the accident. But it's still a good idea to let your insurance company know about the accident.
10. What to do if you're at fault or not at fault in a car accident?
Regardless of who is at fault, you should still handle the accident following the steps listed above. Once you call your insurance company, they will determine who is at fault by using the information you provided as well as the car accident report. Whether you are found at fault or not, you will always deal with your own insurance company. You will never, ever speak with the other drivers' insurance company.
If you are found to be at fault, you will have to pay your deductible, usually $500 or $1000, as your portion of the vehicle repairs. It is important to note you can be found at fault even if you were not charged with an offence such as speeding or making an improper turn. Every accident must have someone declared "at fault". Your driving record will be affected, and your rates will go up in subsequent years.
If you are found "not at fault", your deductible will be waived, and your insurer will pay for all of the damages.
Bonus Tip to Prepare for Car Accidents
Emergency road kit
At all times you should carry an emergency road kit in your vehicle. This should contain some first-aid provisions, booster cables, blanket, water, road flares and a flashlight. If you get into an accident in a remote area or if there is poor weather, a road kit could save your life.
Now you are a pro at knowing what to do in the event of an auto accident. The trick now is to drive safe and avoid accidents at all costs while being prepared to make bad day go a little more smoothly.
If you're looking to report your accident directly to your insurance company, you can find their emergency numbers here.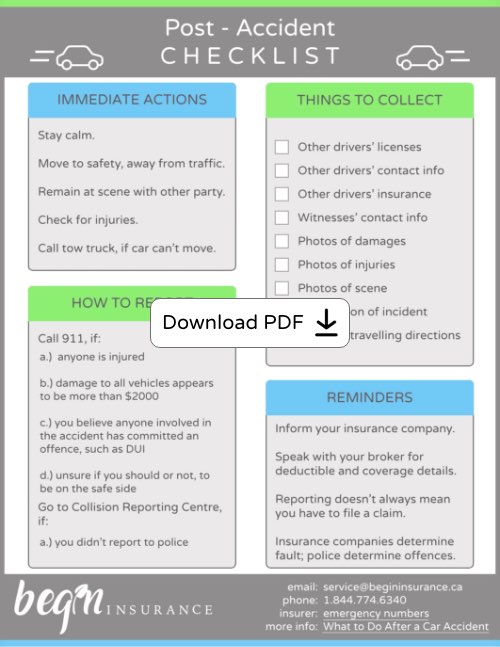 At Begin Insurance, we offer more than just insurance. We are focused on giving you peace of mind. Know that you're in the hands of trusted professionals, before you buy a policy with us, when you need servicing, or when you need assistance after an accident. Get a free quote from us below or call us at 1 (844) 774-6340.